Jarmila Jeřábková
8 March 1912 – 21 March 1989
dancer, choreographer and teacher
Founder of Czech contemporary dance, pupil of Elizabeth Duncan, representative of a dance trend referred to as Czech duncanism. She followed the idea and method of the famous reformer Isadora Duncan, acquired the teaching principles of her sister Elizabeth transforming them into a characterful dance style based on a thoroughly worked-up methodology and a long-term teaching practice. Unlike many Duncan followers Jeřábková did not want to rigidly reconstruct Isadora Duncan's choreographies, to conserve her style. Jeřábková's Czech duncanism was innovative in her creative approach, in developing the original idea, in the effort to keep pace with the progress of modern dance, even regarding technique. The essence however remained the same – dance as an expression of inner cultivation of a versatile human being.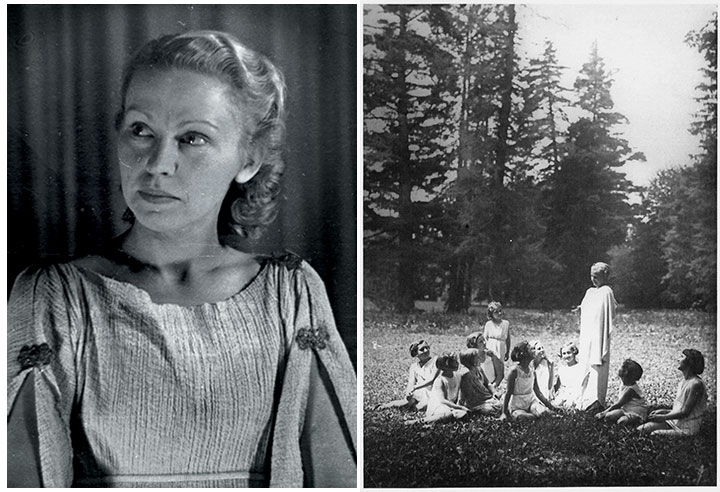 Jarmila Jeřábková came from an exceptional family. Her father František Jeřábek was a violin virtuoso, leader of the National Theatre orchestra and later member of Minneapolis Symphony Orchestra in the USA. Her mother studied art at the university in München and piano with Bedřich Smetana. Her aunt Gabriela Roubalová sang under her stage name "La Boema" at the Metropolitan Opera in New York, at La Scala in Milan and was also renowned as the directress of the Opera in Sydney. From this family potential grew Jeřábková's musical and artistic talent which in addition to her motional gift allowed her to achieve mature artistic complexity. Her interest in the "Sokol" physical education society brought her to Elizabeth Duncan's summer courses in Klessheim (1929-32). Then she began promoting this dance style at the same time following from the beginning also the local tradition of women's physical training. From 1932 till 1934 Jeřábková taught at a music school in Slaný, from 1934 on in Prague. Her school changed its location and name several times, the most famous place was the palace Metro at National Street. From 1937 it was known under the name of "Jarmila Jeřábková's School of Artistic Dance founded under the personal direction of Elizabeth Duncan". The Metro Studio, as it was referred to, attracted personalities of related art forms. Jeřábková cooperated not only with excellent musicians (conductors Otakar Pařík, František Škvor, Jaroslav Vogel) and accompanists (Jiří Ruml, Zdena Holovská, Elena Mikešová) but also visual artists (Karel Svolinský, E. Frinta, Josef Soukup, Olga Fejková, Jarmila Havlíková). Together with the Elizabeth Duncan Society she organized summer courses at Velké Opatovice Castle (1935-37) whose environment enabled a specific duncanist feature – dance in the open air. During the years 1935-48 she staged a number of performances with a group of the first pupils. They performed not only in Prague (at Vinohrady, Lucerna, Komorní divadlo, Divadlo 5. května) but also in other towns such as Ostrava, Písek, Slaný, Chotěboř, Hradec Králové and Příbram. In 1931 already the group took part in the congress of artistic dance in Italy (Riunione Internazionalle Di Danza Firenze) and in 1934 in Warsaw.
The group was awarded first prize at the Congress of artistic physical education organized by Union des professeurs de danse et éducation physique in Paris in 1937. During the Nazi occupation of Czechoslovakia the performance of Dvořák's Slavonic Dances (1940, stage design by Karel Svolinský, music performed by the Prague Symphony Orchestra) was of great artistic and social importance. Eight "barefoot" female dancers presented a choreography which was based on stylized Slavonic dance features. The Slavonic Dance No. 7 in C minor was performed by Jeřábková herself. The second stage production (1943) was innovative too for its time. It was a dance programme compiled from vocal compositions by Czech composers. Live music was performed by the Czech choir led by Jan Kühn, stage design again by Karel Svolinský. In 1946 the group staged its third original production called V zámku a v podzámčí (At the Castle and below). The first part of court dances was held in a hall, the second part representing folk environment was performed in the open air. The project took place at the Dobříš Castle during a meeting of the Syndicate of Czechoslovak Writers. The programme was then repeated in Prague. The group's core members were Onta Jankovská, Marta Horová, Dáša Bittnerová, Jarina Smoláková, Elvíra Mařatková, Dana Bořkovcová and Běla Dintrová. The establishing of socialism and nationalization affected also the private school at Metro Palace. The group was abolished in 1948 already; the school was taken over by the state in 1955. Four years later with all its property it was put under the administration of the House of Culture of Prague 1.
Jarmila Jeřábková stopped appearing on stage. She devoted her efforts to teaching, especially children. She reformed the idea of children physical education mainly with regard to emotions. She developed children's imagination, opened ways for creative thinking and studied children's inner life.
She had previous teaching experience. During the 1930s she taught at state courses of physical education in Nymburk, Prague, Šternberk, Třeboň and Brno. She taught primary and secondary school teachers at supplementary courses, in 1937/38 she led a children's course for the Czechoslovak Red Cross and she also taught the instructors of the "Sokol" physical training society. From 1938 she taught dance at the Institute of Physical Training of Charles University and similarly at the Institute of Physical Training of the pedagogical faculty of Palacký University in Olomouc from 1949. After the war she continued these activities. She worked with the weak-sighted at a school at Vinohrady in Prague (1945-55). From 1954 till 1956 she cooperated on the research of training for the correct body posture at the Research Pedagogical Institute in Prague. She participated in creating the physical training curriculum for schools (1956-57); she worked in the State Committee for Physical Education and sport and led courses for the trade unions instructors (1954-56). Together with Luboš Ogoun Jeřábková participated in the preparation of Czechoslovak gymnasts for the Olympic Games in Melbourne in 1956. She taught dance and physical training teachers in Trenčianské Teplice, Košice and Poprad (1956-59), she taught classes to university teachers of physical education (1956-62). Together with Jarmila Kröschlová she worked on the aesthetic physical training curriculum for music schools. During the years 1959-60 she also taught supplementary courses for dance teachers at music schools. She was also active in the field of dance therapy (then called psycho gymnastics) at the psychiatric clinic in Prague 1960-61. From 1961 till 1963 Jeřábková taught children's dance at people's conservatory in the region of Central Bohemia. A similar two-year course was taught by Jeřábková at the State Conservatory Prague from 1962 till 1964. During the years 1962-63 she taught dance at the music school in Voršilská Street in Prague.
The second period of Jeřábková-the choreographer began at the end of the 50s when she trained a dance group of children. In 1958 she created a dance performance Od jara do zimy (From Spring till Winter) (story Anny Jurásková, based on drawings by Karel Svolinský, music collaborator Jiří Ruml, stage design Adolf Weing, choreography Jarmila Jeřábková and Elvíra Mařatková).
In the 1960s the grown-up children formed a group of dancers which represented the third period of Jarmila Jeřábková's work and a new wave of Czech duncanism. Again the Metro Studio filled with artists; Jeřábková organized representative dinners; in the style of Isadora Duncan she attracted outstanding personalities of art and intelligence. After the events of 1968 Jeřábková got in touch with international duncanism. The group accepted an invitation to perform at the Academy of Raymond Duncan in Paris (1968). It also participated in the celebration of Isadora Duncan 90th anniversary in Esslingen near Stuttgart organized by the Duncan Gesellschaft in 1969. The same programme was performed in Prague, Rakovník and Liptovský Mikuláš in 1969-70. The 2nd evening of dance and movement etudes by Jarmila Jeřábková's group (Prague 1970, Liptovský Mikuláš 1971; three parts were broadcast on Czechoslovak Television) comprised only of pieces by 20th century composers giving way to the interest in contemporary music, in modern choreography on modern music. The 3rd evening of dance and movement etudes by Jarmila Jeřábková's group was conceived in the same manner and in 1972 performed at Divadlo Komedie in Prague. The group members were Eva Blažíčková, Živana Bonušová, L. Dyrová, Ljuba Eremiášová, Helena Metličková, Nea Nováková, Zdena Pilková, Hana Pivcová a Libuše Švábová.
Apart from her choreographic and pedagogical work Jarmila Jeřábková contributed her art to films. In Jak tančila Isadora Duncanová (How Isadora Duncan Danced, 1958) she choreographed and performed reconstructions of Duncan's original pieces. Jarmila Jeřábková created choreography for the film version of Julius Zeyer's fairy tale Radúz and Mahulena, directed by Petr Weigl, where her group performed together with the dancers of the Army Artistic Ensemble in 1969. Czechoslovak Television made a twenty-part series of pre-school physical education and a thirty-part series of games Od jara do zimy (From Spring till Winter), in both appeared the pupils of her school. Several choreographies of the children's group and a series Hrajte si s námi (Play with us) was broadcast on Czechoslovak Television in 1971. Two years later Janáček's Říkadla (Rhymes) were filmed. The group itself became a subject of a documentary film.